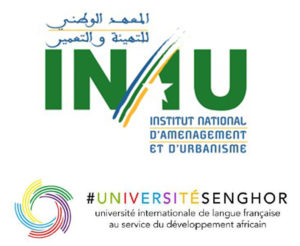 Master 2 "Transport and sustainable urban mobility"
Type of diploma
Master degree (60 ECTS)
Target audience
Technicians in charge of transport and urban mobility projects
Senior managers and decision-makers
Partners
CODATU
Institut National d'Aménagement et d'Urbanisme – National Institute of Urban Planning and Development
Senghor University
Key figures
3 classes trained (2017-18, 2018-19, 2021-22),
39 auditors have followed this training
Periodicity
Promotion every 18 to 24 months
Teaching device and method
Face-to-face teaching (and distance learning for some international teachers) alternating between lectures by teachers and experts, exercises and case studies. Field trips may be planned.
Model
The course consists of 8 teaching units and an internship, spread over 16 months (average duration of teaching 330 hours). As an indication, the course of study can be organised as follows:
UE 1

Introduction to Sustainable Urban Mobility

UE 2

Urban and Regional Mobility Planning

UE 3

Governance, Financing and Defining Travel

UE 4

Project Management of Public Transport Networks

UE 5

Development and Operation of Public Transport Networks

UE 6

Mobility demand forecasting and fare and commercial policy

UE 7

Traffic engineering and flow management

UE 8

Final Project and Examinations
Expected skills
Analyse, understand and respond to the demand for mobility in African cities;
Develop, optimise and operate multimodal transport networks;
Develop and implement urban mobility policies and urban travel plans in Moroccan cities;
To ensure the project management and management of large infrastructure projects (mass transport system).