Two articles of the CODATU XVII Conference published in the journal TEC #235 – October 2017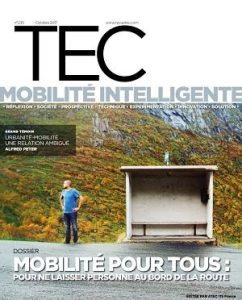 Two
papers selected by the Scientific Committee of the CODATU XVII Conference (4-6 November 2017 – Hyderabad, India) were selected by the editorial staff of the journal TEC Intelligent Mobility, and published in issue #235 published in October 2017. The call for communications launched in 2016 focused on "Transport for Inclusive Urban Societies".
Articles dealing with the cases of Cotonou (Benin) and Douala (Cameroon) are part of the "Mobility for all: To leave no one at the side of the road" and deal respectively with issues of mobility for the poor , and those related to the transport of goods.
"Cotonou in Benin: The hell of the poor"
Dr. Placide BADJI – African Union Commission, Addis Abeba, Ethiopia
Prof. Philippe BOUILLARD – Université Libre de Bruxelles, Brussels, Belgium.
"Douala in Cameroon: what place for the transport of goods?"
Prisca TENE MBIMI – Civil Engineering Enginer, Head of Transports and Mobility Service, Urban Community of Douala;
Joseph Magloire OLINGA – Geographer,

in charge of Planning and Sustainable Development

, Urban Community of Douala;
Hervé WABO – Urban Planner, expert in transport and sustainable mobility, Ministry of Housing and Urban Development.