[REPORT] Urban Mobility Forum in Egypt : « Out-of-fare-box » financing for the operation of metros and urban rail
The
Urban Mobility Forum (UMF) in Egypt was organised in the framework of the "Sustainable Urban Transport" programme of the Center for Mediterranean Integration of Marseille (CMI) coordinated by AFD (French Development Agency), CODATU and CEREMA held in partnership with the Euromed RRU project, and the Egyptian Ministry of Transport under the title: "Out-of-Fare-Box" Financing for the Operation of Metros and Urban Rail.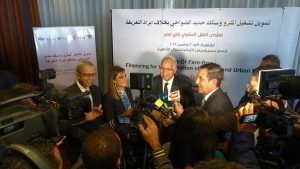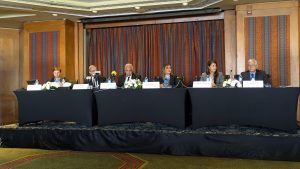 Given the Egyptian context, where the first Metro in Africa and the Middle east was constructed and opened in 1987, and the urgency of addressing the issue of financing urban transport, this event has addressed the "out-of-fare-box" financing for the operation of metros and urban rail. The Urban Mobility Forum (UMF) was organized in close collaboration with the Egyptian partners and contemplated the participation of His Excellency the Minister of Transport and of Her Excellency the Minister of International Cooperation and of local and national stakeholders, policy makers, top level representatives of the Ministry of Transport, representatives of the a number of cities nation-wide, private and public associations and universities, as well as international experts.
The UMF gathered numerous stakeholders involved in the organisation and operation of metro and urban rail in Cairo and professionals from other Egyptian cities in order to discuss "out-of-fare-box" financial mechanisms and come-up with a few applicable and appropriate measures and actions to increase metro and urban rail revenues. The Forum focused on the Cairo metro system but the contributions and the conclusions are relevant also for urban rail and public transport in other cities in general.
An event rich of discussions
UMF allowed successful exchanges and discussions between Egyptian stakeholders and international experts intervening mainly for some thematic insights and the animation of the debates.
The two days event was organised mainly in 4 sessions :
Session 1: Challenges for funding operation of metros and urban rail
Session 2: Practical applications of "out?of- fare?box" financial mechanisms for metro operation
Session 3: Advertising and commercial enhancement of metro stations
Session 4: Processes and examples of land value capture around metro stations
The forum started by presenting the Egyptian context through presentations of the metro legal and regulatory framework and then offered a wide background of possible "out-of-fare-box" financial mechanisms that can be integrated in local policy. Each session allowed the participants to take part in the exchanges and sharing of ideas.
The Session Chairs also invited each of the participants to write practical solutions in order to discuss together their applicability to the Egyptian context. The audience ideas increased the exchanges quality and helped in identifing priority axes of action.
Discussions
Currently, Cairo Metro consists of three lines stretching over 72 km and carrying more than 2.5 million passengers every day. Eng. Ali Fadaly, Chairman of the Egyptian Company for Metro (ECM) stated that the gap between fare revenues (594 million EGP) and operating cost (873 million EGP) is (-)165 million EGP and stressed the difficulty to introduce any fare increase. Mr. Sherif Nabih, Chairman of the MOT for Investments and Projects, the company in charge of enhancing advertisement and commercial use of metro stations in Cairo, confessed to be facing obstacles in dealing with all related parties due to an inadapted regulatory framework. During the discussions, experts and audience agreed that GC Transport Regulatory Authority (GCTRA) would act as the entity leading transport regulation under the supervision of the MOT. However, the experts suggested reviewing the fare policy at least in Cairo and Alexandria; Dr. Julien Allaire from CODATU stated that Cairo holds probably the cheapest metro ticket price in the world and that solutions must be found also from the fare box.
H.E. Dr. Said was very much interested in the French tax "Versement Transport" (VT) which levy on the total gross salaries of all employees of public and private companies of more than eleven employees. Mr. Thierry Gouin from CEREMA stated that in France the construction, operation and maintenance cost amounts to about 16.5 billion € and is made up by 30% public funds, 40% indirect beneficiaries and 30% direct beneficiaries. Mr. Olivier Badard from RATP Dev explained that in Paris for exemple non-fare revenues contribute to an economically balanced contract. Some people from the audience expressed concern on the Minister's interest in VT as Egypt has been recently going through a taxation reform that has imposed new taxes, like the value added tax.
During the Forum it was also highlighted that rail transport generates value for citizens, business and public authorities and part of the land value increase created by a rail project can be used for the development of local infrastructures and services through "Land Value Capture" (LVC) mechanisms. Mr. Christophe Chevallier from AREP Ville stated that Transit Oriented Development (TOD) projects have to take into account the local context to understand the governance mechanisms and to articulate the different scales and temporalities in order to create and exploit the added land value. In order to maximise land-use value, Mr. Yves Amsler from UITP invited Cairo and other cities to develop a trans-institutional holistic vision of sustainable urban mobility through a master plan integrating transport and land use. For what concerns the use of specific taxes to fund public transport, Prof. Dr. Ali Huzayyin explained that the "Betterment Tax" presented by the experts during the forum is already collected by local governments in the cities but is not considered as a "transport contribution". The commercial enhancement of stations was also presented as a financial mechanism, but the challenge is to find a balance between selling advertisement and retails' spaces and the passengers' comfort. In this sense, Dr. Etienne Riot from AREP Design presented a comparative study between France, Italy and England on the overall approach for commercial enhancement in stations.
In Cairo, the MOT for Investments and Projects Company is facing difficulties with advertising for the last 3 years of its contract with ECM as companies ask for 10 years contracts at least. Mr. Sabbagh from JCDECAUX highlighted that long-term contracts with one major specialised company allow investment in best quality and ensure viability of investments.
Selling metro stations naming rights was also presented by Dr. Lorenza Tomasoni?Pradel from CODATU and the Euromed RRU project as a new potential source of revenue. Authorities appreciate the idea but some experts are worried about the loss of identity and its use should be strictly ruled and adapted in each city and neighborhood.
Egyptian participants expressed the need of workshops, training and technical visits in order to respond to staff requirement to better deal with management and operation tasks and the many experts offered their companies' help. In this sense, for example, technical visits in Europe can be organised and a study on Attaba metro Station needs to be launched. During his concluding speech, HE Dr. Galal Said explained that Ministry is looking for solutions based on the "out-of-fare-box" as the funding gap between metro operation cost and fare revenues is rapidly increasing and stated that all solutions that are discussed during the Forum are applicable for all Egyptian cities and not only Cairo.
Five groups of actions and measures identified for Cairo and Alexandria (mainly)
Thanks to presentations and debates, many solutions have been defined and most of them where welcomed by the Minister of Transport. To face urgency, it is essential to define and prioritize realistic and applicable measures. All the measures are applicable to Cairo Metro. Some of them can be also applied to the Egypt National Railways network, the Alexandria future modern tram and with, some adaptation, even to the bus network.
This event allowed to identify some major issues and possible options for developing new financial mechanisms at the national and at the local level in order to fill the gap between revenues and operating costs. Five groups of measures have been identified in order to draft an action plan and assess more in detail their applicability and feasability :
Group 1 – Utilization of Metro Assets and Potentials
Group 2 – Ticketing and Fare Values
Group 3 – Operating Cost
Group 4 – Fees and Charges
Group 5 – Others