Greater Cairo and how the transport system is coping with rapid expansion
Introduction
Greater
Cairo (GC) is the largest urban area in the Middle East and one of the most populated cities in the world. The urban growth patterns of the metropolitan area reveal a fragmented city of heterogeneous parts that developed unplanned over the years. GC public transport network offers large variety of means of transportation throughout three governorates but its lack of efficiency is forcing more and more people to use private cars. The extreme density of the urban fabric and the widespread congestion on the road network end up making the city's liveability very difficult.

City structure
The Greater Cairo metropolis comprises three governorates: Cairo, Giza and Qaliubiya. GC is structured around its historical central urban area, comprising a central business district, the outlying suburbs surrounded by a ring road and a belt of new satellite towns in expansion such as New Cairo and 6th October. Cairo's urban area is marked by successive influences of urban planning mainly inherited from the colonial period and the increase of buildings linked to rural exodus.
The Cairo governorate is located on the East bank of the Nile River, and it spreads many kilometres, mainly to East and South. This area includes the Cairo international airport and Heliopolis, one of the most affluent areas in the metropolitan area. The governorate also includes "New Cairo", an attractive new town located in the south-Eastern quadrant and characterised by a number of university campuses, condominium buildings and individual housing.
The Giza governorate is located on the west bank of the Nile River and, in reality, constitutes a continuation of the urban core. This area has seen a considerable informal housing development with narrow and irregular streets hardly ever shown on local maps. Giza also includes the "Sheikh Zayed" and "6th of October" new towns, located on the west side of the hills on which the Great Pyramids stand. The area is characterised by commercial activities, multi-story condominiums and detached housing.
The Qaliubiya governorate is located to the north of Cairo governorate and the majority of its population lives in rural areas.
Cairo Governorates
In the late 1970s, President Sadat started a shift in the urban planning and housing policies that aimed at facing the increasing population growth. This approach wanted to divert the growing random housing expansion and unplanned urban sprawl to the deserts away from the Nile River's delta and valley. Expansion projects are led by New Urban Communities Authority (NUCA), which tries to solve the inhabitant crisis or slums' expansion.
Cairo Urban Expansion Directions
The President Sadat urban expansion concept aimed at building new satellite cities around the main populated centres in order to decrease overcrowding. In Greater Cairo, this led to the creation of New Cairo, Sheikh Zayed and 6th October as well as the New Capital which is currently being built. The Ministry of Housing, Utilities and Urban Development (MoH) claims the capital could house up to 7 million people; the initial plans estimate 1.1 million residences. Cairo's population doubled in the last 40 years and is expected to double over the next 40 years again[1].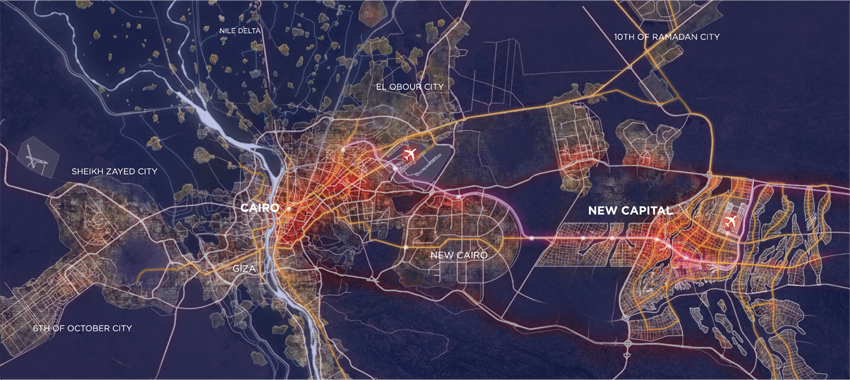 New Capital
New cities are planned to have their own economic basis and to be independent in order to minimise the need for daily commuting to and from the nearby existing cities. For these new towns, the government provides the roads and infrastructure while the private land owners and companies are responsible for the buildings' construction. However, as its residents are actually working in other parts of the metropolitan area, these new developments cause more pressure on the city transportation facilities, increased the transportation costs. Nowadays, new cities are dormitory towns and the transport system and infrastructure have not kept up with demand growth rates, thus failing to expand services. Egypt urban planners refer the failure of the new towns policy to the non construction of railway lines to connect between the new towns and the city, as it was planned (Dr. Omr El-Hoseiny, 2012).

Peri-urban share of Greater Cairo's Population and Growth 1996-2006
Urban transport institutional landscape
Governorates are the main entity responsible for the urban transport regulation in Egypt with the sole exception of GC metro. Each governorate is involved in licensing shared taxi routes and is responsible for the operation of parking lots and shared taxi terminals inside their administrative boundaries. Cairo Governorate, as well as Alexandria Governorate, has a specific transport authority.
Cairo Transport Authority (CTA) is the main bus operator of Cairo and runs historic tramline and two Nile ferry lines. Around twenty-two private companies, working on concession-based arrangements, operate minibus routes under the supervision of the CTA within the Cairo Governorate. The CTA is under the umbrella of Cairo Governorate, even if the network managed by CTA covers the entire area of GCR (Cairo, Giza and Qaliubiya).
In Greater Cairo, the Ministry of Transport is responsible for the metro operation through the Egyptian Company for Metro Management and Operation (ECM) and construction through the National Authority for Tunnel (NAT), the suburban rail lines which belong to and are operated by the Egypt National Railways (ENR) and the operation and maintenance of the road network.
Egyptian National Railway (ENR) is the responsible for construction and operation of the national and regional railways lines in Egypt, either passenger or freight. Fares, proposed by the ENR, have to be approved in ministers' council. In Greater Cairo, ENR runs two urban lines.
Egyptian Company for Metro Management and Operation (ECM), or Cairo Metro, functioning as a sub-body under the authority of the Egypt Railways National (ENR), was established, through the ministerial decision No. 201/1984, as an independent body to operate, maintain and manage the Greater Cairo Metro. ECM was transformed from an operating body to a Company in 09/04/2003 according to the provisions of Law 8 /1997 concerned with investment guarantees and incentives and Law 159/1981 concerned with establishing shareholding companies.
National Authority for Tunnels (NAT), under the jurisdiction of the MoT, is the agency responsible for Cairo underground Metro implementation. In 1983, NAT was established by the special Law 113 that authorised it to plan and to execute tunnels and metro projects in Egypt, including management of the full process of tendering and procurement of rolling stock.
Greater Cairo Transport Regulatory Authority (GCTRA) has been created, through the presidential decree No. 349 of 2012, as an entity to function as the lead institution for transport planning and regulation in the Greater Cairo region. The law states that GCTRA has its own legal persona under the supervision of the MoT. Effectively, GCTRA seeks to organise, plan, monitor and evaluate the performance of all activities related to transportation sector in GCR. However, it has yet to be operational.
Road network and transport
The GC road network is composed of a variety of road hierarchies, starting, at the top, with elevated highways that form strategic traffic corridors; and ending with numerous alleys in the old districts expand within housing and small commercial units. A segregated Ring Road of around 100 km also exists and prevents interurban and suburbs' traffic from crossing the city. The Nile river passes through the city from the South to the North; constituting major barrier between East and West districts. Sixteen bridges cross the River connecting the two sides and the main residential islands. Numerous flyovers and underpasses, by-passing main squares, exist. Two main tunnels, each is 2.5 km length, under-pass Old Cairo.
The Ministry of Housing, Utilities and Urban Development (MoH) is involved in the construction of elevated expressways before transferring their operation and ownership to the Ministry of Transport. The MoH works in order to urbanize the desert regions with the establishment of cities and with the improvement of the urban structure. Its policy mentions the following up of the Roads and Corridors project for solving Greater Cairo traffic problems and linkage with new cities.
Greehouse gas emissions
Based on a Cabinet of Ministers decision, the Ministry of Transport developed a strategy for the improvement of national transport and urban traffic, in addition to controlling exhaust emissions from road-based vehicles in Egypt. In this respect, the removal of lead from gasoline, and the removal of an increased quantity of sulphur from diesel oil was to be achieved by 2012.
Vehicles emissions represent one of the main sources causing air pollution especially in Greater Cairo, which suffers from high traffic density as a result of the increasing numbers of vehicles and a decrease in their average speed to 11 km/h due to recent population growth and economic development.
In Greater Cairo, studies conducted by Ministry of State for Environmental Affairs attribute pollutants to their sources indicated that vehicles emissions' contribute with about 26% of the total pollution loads of particulate matter, more than 90% of carbon monoxide, 90% of hydrocarbons and 50% of nitrogen oxides. These gases cause harmful impact on both ecosystem and public health and cause respiratory diseases. For instance, annual average concentration of nitrogen dioxide (NO2) in Greater Cairo during 2010 was 44 ?g/m3 compared to 36 ?g/m3 in 2009, this is due to the increasing number of vehicles during 2010.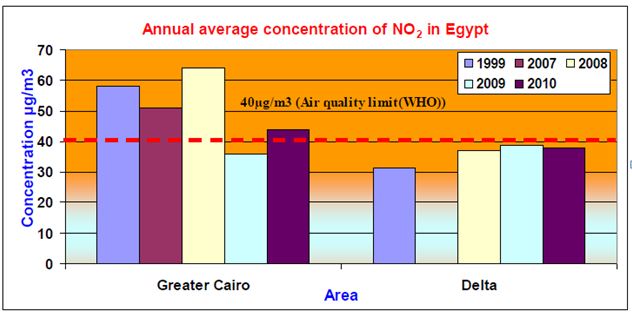 Annual average concentration of nitrogen dioxide at different monitoring areas
Non-motorised transport
Greater Cairo streets are not planned to welcome pedestrians. Walkways (such as sidewalks and pass-ways) are non-pedestrian-friendly or, simply, non-existent. Sometimes walkways are even not respected and are used as unregulated parking areas. Drivers' behaviours make walking in Greater Cairo's streets dangerous and even hazardous when major roads need to be crossed. This situation forces users to opt for individual and motorised forms of travel when they are in a position to do so.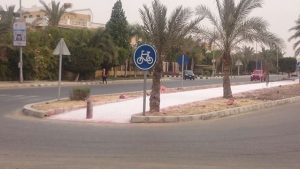 Since 2015, Egypt is trying to encourage cycling culture in streets and is introducing bike lanes as an attempt to develop a cycling infrastructure. Egypt's President Abdel Fattah Al-Sisi has participated in several cycling marathons in an attempt to encourage Egyptians to use bicycles instead of vehicles. Initial bike lanes were introduced in Maadi and Sheikh Zayed residential area but they were also used as parking spots. Several groups organise biking events every Friday morning in Cairo including Zamalek district, Nasr City and 6th October city to raise awareness about the cycling culture.
Bike Lane spotted in Sheikh Zayed City. Photocredit Ali Raafat / Facebook
Public transport network and modal share
Shared Taxis and Taxis
Taxi services, provided by individual operators, are not planned and seldom regulated as drivers hardly follow their licensed routes. They represent almost 83% of all motorised trips. These services include inter-urban and intra-urban microbuses and shared taxis with 7–17 seats, metered taxis, pickups and light vehicles (such as three wheelers), as well as school, tourist and factory buses. It is calculated that 163 300 taxis and microbuses serve 2.7 million passengers daily in the GCR. Paratransit includes the mostly 11-places "shared taxi", microbuses and the 25-places "cooperatives" minibuses. Taking advantage of smaller vehicle sizes and being operated by individual drivers/owners, the shared taxi is a demand-responsive mode that is heavily used.

On the left, a microbus. On the right, a metered taxi. Nasr Street, Cairo – CODATU
Bus and Minibus Routes
Bus services provide user with an extensive network spanning over the three governorates. CTA is responsible for planning, operation and regulation and twenty-two private companies own and operate minibus services on concession lines[5] under its supervision. Notwithstanding, the network suffers from lack of funding resulting in aging fleets, overcrowding, and declining service frequencies. This poor quality of service is no match for the advantages of the shared taxis services, such as personalised and flexible stops.

On the left, Bus corridor in Mostafa Nahas Street, Cairo. On the right, a bus in Nasr Street, Cairo / Sara Abd Alla – Codatu 12/12/?2016
Tramways and Urban Railways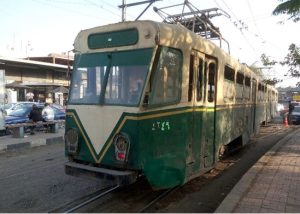 Due to the lack of maintenance, the Heliopolis tramway offers only a slow service that is responsible for less than 1% of public transit motorised trips. Heliopolis tram is a metre-gauge light-rail line that used to start in Ramses Sq (Metro Al Shohadaa) then headed North-East parallel to metro line 1. Today, the tram works only a short track from Almaza to the Tribunal Square.
Heliopolis Tramway in Cairo / Sara Abd Alla – Codatu17/12/?2016
Metro Service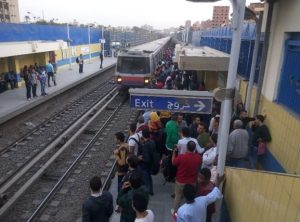 In 1987, Cairo was the first Northern African city to develop a metro system. Cairo Metro transports approximately 2.8 million passengers per day (2012). The first line runs from Al-Marg to Helwan, it is 44 kilometres in length and it has 35 stations; it passes through the centre of Cairo at Tahrir Square. The second line runs from El Monib to Shubra (22 km in length and 20 stations of which two interconnect with Line 1). A third line, connecting Embaba to the Cairo Airport, with a total length of 33 km and 29 stations, is under construction. The first segment of Line 3 has been operational since 2012. Three more lines are expected to be operational before 2020.
Cairo University Metro Stop in Cairo / Sara Abd Alla – Codatu 12/12/?2016
Sustainable Transport Project
Launched in 2009, the Sustainable Transport Project (STP) promoted by the United Nations Development Programme and Global Environment Facility (UNDP-GEF) envisaged introducing sustainable transport pilot projects on high quality transport, cycling and demand management in Egypt. The executing agency was the Egyptian Environmental Affairs Agency (EEAA). The project's objective is to create an enabling policy and institutional environment and to leverage financial resources for the sustainable transport sector development, including public-private partnerships.
Among others, the STP project aimed at introducing integrated high quality public transport services for Greater Cairo and its satellite cities in order toencourage higher income inhabitants to shift from car use to High Quality Bus services (). Five high-quality bus corridors connecting 6th October, Sheikh Zayed and Media Production Cities with the Metro in Greater Cairo are being implemented.The project intends to provide parking areas for private cars at the bus terminals in both 6th October and Sheikh Zayed cities to encourage citizens to park their cars and use public transportation.
CREATS 2022
In 2002, the Japan International Cooperation Agency (JICA) and the Higher Committee for Greater Cairo Transport Planning published the Transportation Master Plan and Feasibility Study of Urban Transport Projects in Greater Cairo Region in the Arab Republic of Egypt (CREATS – Cairo Regional Area Transportation Study) showing the optimal transport assessment to be achieved before 2022.

The CREATS aimed at being comprehensive and at introducing approaches designed to mitigate urban transport problems and contribute to the sustainable development of the Greater Cairo Region. The Master Plan addresses three main issues:(1) preparation of an integrated, multi-modal transport master plan extending over a twenty year planning horizon to year 2022;(2) identification of high-priority projects whose implementation is to be achieved in the short term, and whose merit is determined via feasibility studies; and, (3) implementation of an effective and productive technology transfer program with Egyptian counterparts. The transport strategy gradually shifts from alleviation of present deficiencies to realisation of a transport system founded upon sustainable evolution and integrated, mutually supportive transport solutions.
Upcoming projects
Metro lines 4, 5 and 6
Cairo Metro envisages three more metro lines. Line 4 is planned to run from Haram District to the New Cairo district, connecting Greater Cairo from West to East. It will cross the two branches of the Nile river, and have a total length of 24 kilometres. The project will run fromEl-Malek El-Saleh Station (interchange with Line 1) to the October-Oasis Highway Station with a total length of 18 km, passing through Giza Railway Station (interchange with Line 2).
Cairo Metro Lines
Line 5 starts at El Wafaa Wel Amal in Nasr City , continue until El Khalafawy Square to intersect with Line 2 at El Khalafawy Station then ends at El-Sahel area with a length of about 20 km and a total number of 17 underground station.
Line 6 will include 24 Stations, 4 elevated and 20 underground stations area with a length of about 30 km. This line starts from El Khosous area at exit 18 of the Ring Road and continues to Port Said St. to cross above Line 1 at Ghamrah Station and to El Fustat Park to intersect with Line 4 then ends in New Maadi.
6th October Monorail
The 35km monorail train will connect 6th October city with other parts of Giza governorate. The rail project will support economic and housing projects being undertaken by the government as well as facilitating transportation and easing congestion. The project will be jointly implemented and administered by the government and the Canadian company Bombardier. Bombardier provides rail vehicles, signalling and control equipment. The project should cost $1.5 billion and it was initially set to be completed by mid-2018 with funding from a 14-year loan.
New Capital Railway
An electric railway line is expected to extend about 66 kilometers and includes 11 stops and will connect the third line of the subway in Salam City, with the cities of Obour, Shorouk, Badr, and the New Capital through the 10th of Ramadan City. The project will provide a safe and modern means of transportation for commuters and facilitate the transport of goods to and from the industrial areas located along the railway line. The Chinese companies' alliance is expected to establish the electric train project within 2019.
Sources
Cairo Urban Transport Note, World Bank, Arab Republic Of Egypt, 2000
Greater Cairo: A Proposed Urban Transport Strategy, Urban & Transport Unit, Arab Republic Of Egypt, Middle East and North Africa Region World Bank, 2006
Greater Cairo Urban Transport Infrastructure Development Project, Environmental and Social Management Framework (ESMF), Cairo Governorate, 2015
Vision of Cairo 2050, within a national vision of Egypt, Arab Republic Of Egypt, 2011
Final Report on Project: Support to an Improved Urban Transport System in Cairo, Grütter Consulting AG, EEAA/AFD, 2013
Past and present trends of urban transport and related energy consumption, greenhouse gas and pollutants emissions in Greater Cairo, Huzayyin et.al., 2009
Analysis of thirty years evolution of urban growth, transport demand and supply, energy consumption, greenhouse and pollutants emissions in Greater Cairo, Huzayyin et.al., 2013
Sustainable Urban Mobility in the Middle East and North Africa, 2013