CMI Seminar – Urban mobility in Mediterranean cities : feedback and perspectives, 12th-14th November 2014, Izmir, Turkey
The
programme "Sustainable Urban Transport" of the Centre for Mediterranean Integration of Marseille (CMI), coordinated and funded by the French Development Agency (AFD), that delegated implementation to CODATU, started in 2010 with an inaugural conference in Damascus (Syria).
In its first phase the programme activity has consisted mainly in the organisation of regional seminars and thematic workshops (Damascus, 2010, Marseille 2010, Barcelona 2011, Marseille 2012). In the second and ongoing phase, with the organisation of the National Days for Urban Transport (JNTU) in Tunisia (2012) and Morocco (2013) the programme aims tackling local transport stakeholders and decision-makers problems.
Programme
The seminar « Urban mobility in the Mediterranean: feedback and perspectives » that will take place in Izmir from 12th to 14th November 2014 aims:
Presenting results and outputs from previous meetings and activities that have been organised and carried out in the field of the programme Urban Sustainable Transport since 2010;
Favouring the exchange of experiences and expertise among high level decision-makers and transport experts of the Mediterranean Region;
Offering to participants the opportunity to discuss about urban mobility perspectives in the aim also of inspiring the future activities of the programme.
The seminar will favour in particular presentation of good-practice and lessons-learned and discussion concerning problems and barriers faced by local decision-makers and experts dealing with daily management of mobility, development of public transport systems and implementation of urban sustainable mobility. Especially from the point of view of governance and financing.
Further, locally developed solutions will be also presented in order to inspire the development of suitable measures to solve problems on the short term while keeping in mind sustainability goals on the medium and long term.
More in detail, main topics will be: intermodality, financing of transport networks and contracts with operators, modes integration included paratransit transport, accessibility criteria, LRT and MRT not only as transport but also as urban projects. Finally, we expect and wish that further issues and topics will raise from debates and exchange during these three days of seminar.
PROGRAMME AND PRESENTATIONS
Day 1 – Wednesday 12th November (afternoon)
10h30 – Welcome of attendees and coffee
11h00-12h30 – Opening session
Aziz KOCAUGLU, Mayor of Izmir, Turkey
Alain RIES, Head of TED department, AFD, France
Bertrand WILLOCQUET, Director, AFD Turkey, Turkey
Janette UHLMANN, Senior Programme Officer, World Bank, CMI, France
12h30-14h00 – Lunch
14h00-15h30 Transforming transportation in Izmir
Moderator : to be confirmed
Sonmez ALEV, General Director of Metro, Izmir, Turkey
Sabahattin ERIS, General Director of Rail transport, MMIz, Turkey
Kader SERTPOYRAZ, Head of departement for urban planning, ESHOT, Izmir
Salih ASLAN, General Director of maritime transport, MMIz, Turkey
Arda SEKERCIOGLU, Deputy Director, IZULAS
Fidan ASLAN, General Director of Transport, MMIz
15h30 Technical visit: INTERMODAL TRANSPORT IN IZMIR in partnership with izmir municipality & izmir metro a.s.
(Limited number of participants)
19h00 Welcome cocktail offered by Izmir Municipality
Day 2 – Thursday 13th November
9h00 – 10h30 MASS TRANSIT projects as drivers of change
Moderator : Ayman SMADI, General Director of Transport, Great Amman, Jordan
Julien ALLAIRE, Executive Director, CODATU, France
Ziad NASR, President of Public and Rail transport authority, Lebanon
Erhan ENBATAN, Director ESTRAM, Eskisehir, Turkey
Aly HASSAN, Professeur, University of Alexandria, Egypt
Cemal YILDIZ, Transport Engineer, MMIz, Turkey
10h30 – 11h00 Coffee break
11h00 -12h30 gOVERNANCE AND FUNDING of sustainable urban transport
Moderator : Mohamed N'GADI, Chief of Urban mobility division, Ministry of Interior of Morocco
Lise BREUIL, Head of projects, AFD Paris, France
Aziz BERRAHOU, Head of studies and development department of Casatransport, Maroc
Rachid ACHKAR, Deputy Mayor, City of Beirut, Lebanon
Ayd?n GUZHAN, Head of Financial Service Department, MMIz, Turkey
12h30-14h00 – Lunch
14h00- 15h30 – Development and integration of public transport networks and paratransit transport
Moderator : Aziz Berrhou, Chef de département Études et Développement de Casatransport
Pablo SALAZAR FERRO, Indipendent consultant on transport, France
Ayman SMADI, Amman, General Director of Transport, Greater Amman, Jordan
Erhan Öncü, Ulasim Art, Ankara, Turkey
15h30-16h00 – Coffee break
16h00-17h00 – URBAN MOBILTY FOR A BETTER ACCESSIBILITY
Lorenza TOMASONI, Project manager, CODATU, France
Thierry GOUIN, Project manager, CEREMA, France
20h00 – GALA DINNER offered by MMIz
Day 3 – Friday 14th November
9h00- 10h30 Presentation of the Tunisian and Moroccan national context and roadmaps for sustainable urban mobility
Modérateur: Thierry GOUIN, Project manager, CEREMA, France
Mahmoud BEN FADHL, Ex-Chargé de mission au cabinet du Ministre des Transports, Tunisie
Mohamed N'GADI, Chief of Urban mobility division, Ministry of Interior of Morocco
10h30-11h00 – Coffee break
11h00-12h30 – Closing session : Urban mobility and climate change in the Mediterranean Region
Julien ALLAIRE, Executive Director, CODATU, France
?afak HENGIRMEN TERCAN, Head of Environmental Protection and Control Dept.Mu?la Metropolitan Municipality, Turkey
Lise BREUIL, Head of projects, AFD, France
Fidan ASLAN, General Director of Transport, MMIz, Turkey
Technical visit of Izmir: an example of urban transport integration
Izmir, with its 4 millions of inhabitants, is the third largest city of Turkey. The city is located in the west part of the country on the Aegean Sea and it is the second most important port after Istanbul. To reduce traffic congestion in this rapidly growing city, the Municipality decided to implement a urban transport strategy to develop integration of public transport networks.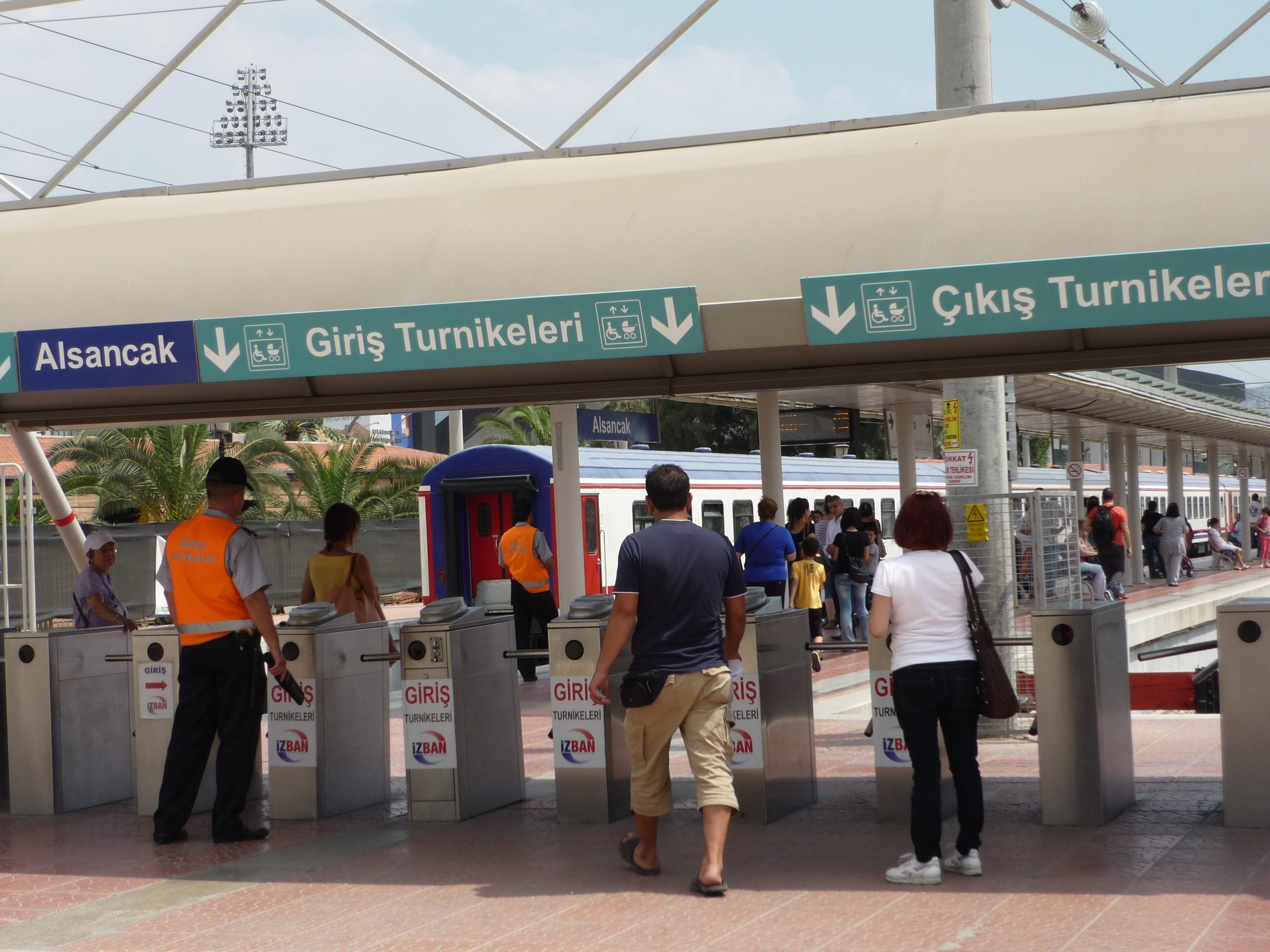 Since 1991, with the first attempt of regulation of paratransit transport, the city has been developing the urban transport network and implementing sustainable measures to respond to a growing mobility demand. In 2000, the Municipality of Izmir launched the programme « Transformation of transports » in order to structure public transport supply and attract passengers. A subway line of 20 km has been built in the last 10 years, the bus network has been increased, fare integration developed and maritime urban transport integrated to the public transport system. A bike-sharing system also entered into force in a restricted part of the city. Local and transport authorities continue to work on this ambitious project: the project for the construction of two LRT lines (tramways) for 2030 has already been approved and funded.
Izmir local authorities are glad to welcome the Seminar organised by AFD in Izmir from 12th to 14th November 2014, a moment for sharing knowledge and exchanging experiences.
We remind you that to attend the seminar registration is compulsory. Please fill-in registration form. The number of attendees is limited, registration will be rejected once the maximum number of participants reached. Thank you in advance for your comprehension.